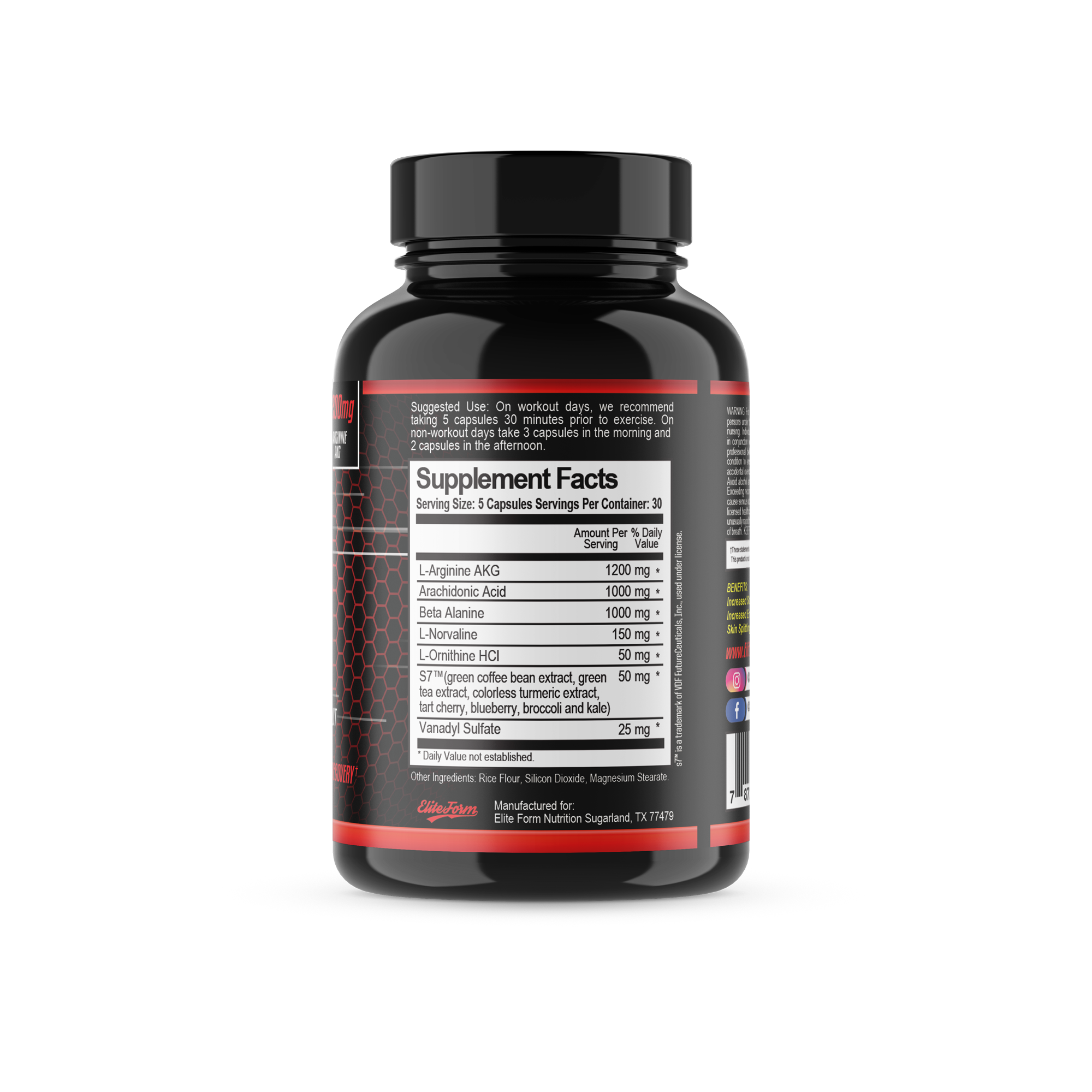 NoxiPump Ultra Nitric Oxide Booster
Stim Free Pre Workout for Strength, Endurance & Muscle Building | Vasodilator and Nitric Oxide Supplement 
Arachidonic Acid Aids in Building Muscle, increases blood flow and ensures an intense long lasting pump while aiding in reduction of the inflammation response to training.

L Arginine AKG An arginine derivative providing the same performance enhancing
effects of regular arginine products, but up to 5 times stronger. It is key to forming
nitric oxide and increases protein synthesis and enhances the body's use of amino
acids to build new muscle.

S7 A formulation of seven plant based ingredients shown to Increase Nitric Oxide by
up to 230% and stays in your blood stream for up to 12 hours.
NOXI- Strength & Recovery
Beta-Alanine Produces carnosine which saturates your existing fast twitch muscle
fibers, delaying metabolic acidosis, the biological process behind muscle fatigue,
which allows you to train at much higher intensity levels and for a much longer period
of time.

L Norvaline Supports the body's arginine, nitric oxide and carnosine concentrations
thus fueling continued muscle growth. L-norvaline's primary purpose is to help
regulate NO and blood flow in your body and is a very effective vasodilator, ensuring
the pumps last much longer.

L Ornithine HCl Reduces fatigue and improves athletic performance, strength and
power. When combined with Arginine it is proven to increase nitric oxide levels and
expand blood vessels for better endurance and increases protein synthesis.

Vanadyl Sulfate forces glucose, proteins, and amino acids into the muscles at a higher rate. This leads to faster and more complete bulking, while reducing the risk of fat gain. It also greatly improves training recovery. 
NoxiPump